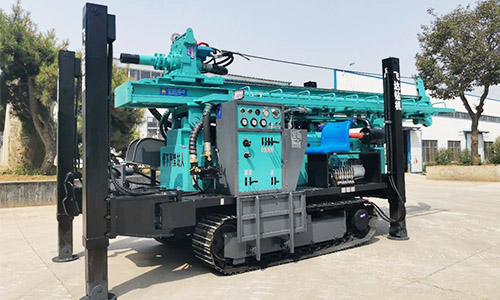 1. It works both air and mud drilling, deal with different underground layers.
2. when works with air compressor, it can break rock 20-30m depth each hour, very efficient.
3. patented design composite boom, double cylinder lift, long stroke, large tonnage
4. one time push could be 6m, save time and labor.
5. crawler system with long hydraulic legs, easy to be loaded and move in drilling site.
This FY280 DTH drilling rig is mainly used to drill deep water well, borehole project, construction piling and some mining project.
SPECIFICATON OF DRILLING RIG
>Weight
>6500 kg
Drilling Diameter
140-305mm
Drilling Depth
280m
Drilling Efficiency
20-30m/h
Rotation Speed
45-70-130rpm
Rotation Torque
3700-5000N.M
Winch Capacity
2.0 Ton
Lifting Capacity
17 Ton
Lifting Speed
8-35m/min
Lowering Speed
6-19m/min
Reverse Thrust Capacity
7 Ton
Engine Power
70kw
>Engine Brand
>Yuchai
>Air Consumption
>17-30 m³/min
>Working Pressure
>1.7-3.0 Mpa
>One Time Push Lengh
>6m
>Diameter of Drilling Rod
>76mm/89mm
>Length of Drilling Rod
>1.5/2.0/3.0m
>Driving Speed
>2.5km/h
>Climbing Angle
align="right">30
rowspan="2">Measurement
rowspan="2">5900*1750*2450mm
Get Price And Support
Please Feel free to give your inquiry in the form below. We will reply you in 24 hours