Questions and Answaers for the FY300 drilling rig
2020-12-06 15:39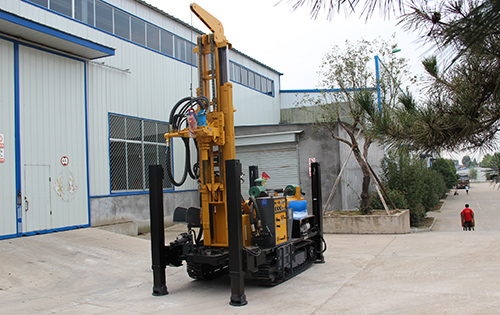 1, What does this FY300 can do?
FY300 drilling rig can work with both air and mud drilling, Mainly used to drill hard layer. rated drilling depth is 300m, however, some customer could use it to drill even 350m. DTH drilling is advantage, in soft underground layer we can use mud drilling Drilling diameter max 325mm.
2, What is the real working performance?
It decides by the capacoty of air compressor and underground layer, normally, when do DTH drilling, it can dril 20-30m each hour. Also drilling skills can make a difference.
3, Does it work with air compressor or mud pump?
When do DTH drilling, it require air compressor 17 bar at least. When do mud drilling, Need some powerful mud pump
4, How about maintance ?
Normally, only need to change different oil, filter regularly, and check condition of the drilling rig everythime before drilling, Good maintance can help the rig machine keep in good condition and last lnger time. Suggest purchase more accessories and spare parts when you purchase the rig.
5, What about after sales service?
Free replacement parts, online support and repairing cost refund if the problem caused by quality in 6 months once get the rig.