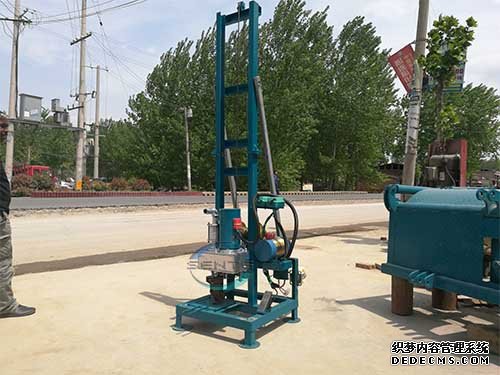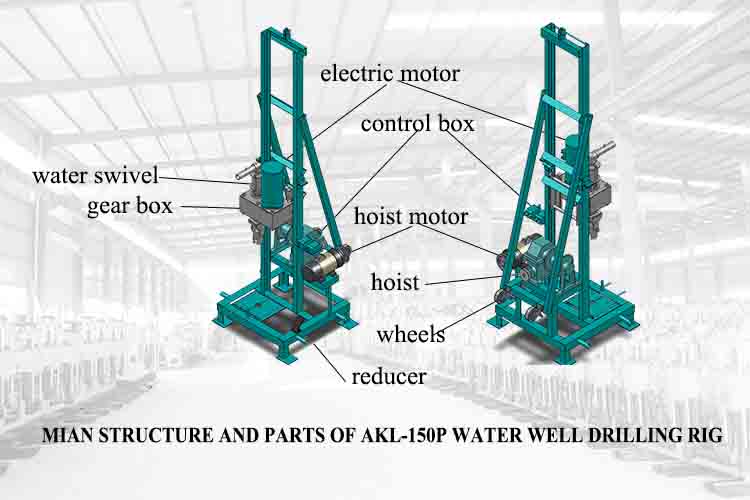 1. New updated 2.5kw drilling motor, it is a motor come from three wheels electric car, very powerful, quality steady and won't burn out like normal 220V electric motor.
2. Gearbox is very important for drilling rig, so we pay much attention on it. after many test, it is designed with simple strong sturcture, long working life, almost no need maintain, only replace lubricating grease regularly.
3. Control box is with four buttons, up/down for hoist, forward/reverse for drilling motor. you can take them in hand to operate. These make drilling easy.
4. Rotary water swivelprovide enough mud from mud pit to make the drilling more efficient. with wear-resistant shaft and bearing inside it to help it keep a longer working time, since water swivel is qucik wear out part. if bad quality, it will be leaky easily.
5. Strond structure compared with similar type in market, Every driller know that the drilling rig will shake when hit some hard formation underground, if structure is weak and not weld strong, the frame will crack easily. Someone told me they bought similar type from a reseller who provide similar copied model, the structure crack first time he use. really bad.
6.Two wheels to help it move to working site. also the whole unit could be disassembled,then two worker can take it to truck or only a pick car. save much money to find a forklift and crane truck.

Used for drill water well till 100m/300feet depth in area there is rock. Working diameter ranges from 80mm to 300mm, about 3 inch to 12 inch. It works better in soil, sand, clay formation. However, there is always some rock underground, to break through it, PDC drilling bit will be provided to help drill through some soft rocks. it will be slowly, and can make it only take much more time.

Also it is OK for you to drill a irrigation water well in your farm. Irrigation water wells is always with a big diameter exceed 200mm/8inch. Drilling twice will help you finish a large diameter easier. or open the hole more than 200mm, ending hole diameter within 150mm.

Sometimes there is some special drilling project, such as horizontal drilling to get accross road underground, Just put the drilling rig horizontal and make some frame to make it steady, then it can finsih such drilling holes, too.

With some auger drilling bit, it is fast to dig a planting holes or some borehole. As to some small foundation project, it can help sometimes, in some area formation is without rocks.

In a word, it is a portable drilling rig that can help you much more, not only to drill for yourself, but also do some commercial use. It can help you get money back very soon.
| Type | AKL-150P |
| --- | --- |
| Max. Drilling Diameter | 300mm |
| Max. Drilling Depth | 100m |
| Engine Power | 2.5kw |
| Lifting Power | 1.5kw |
| Capacity of hoist | 0.5t |
| Pump | 2.2kw, 220v (flow head 46m) |
| Height of tower | 2.0m |
| Rotating speed | 200r/min |
| Measurement | 1600mm*900mm*1100mm |
Get Price And Support
Please Feel free to give your inquiry in the form below. We will reply you in 24 hours