Ways to deal with much clay when drilling a water well
2018-12-15 09:41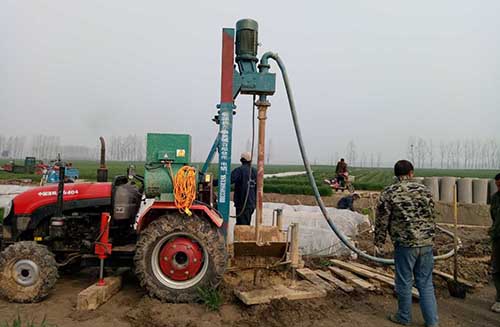 When we do some drilling work, it is really annoying to hit some clay, if few, no big infulence, however, if there is much clay, it will be highly risky during drilling, the drilling pipe and drilling bit will easily get stuck, It is really not easy to pull up the stuck drilling rods or drilling bits.Because the clay is very viscous.
Now provide some adivce to avoid getting stuck by much clay.
1. Use more clean water to rush our the clay, in this case, you had better dig two water pit, one is for clean water into the drilling hole, the other one is for clay mud out of the driling hole, if like this, the clay could be pumped out in a big quanity, then less clay inside the drilling holes.
2. Use some powerful mud pump, with powerful mud pump, the clay will be pumped out easily, then the drilling mud circulation will be very fast, in this way, not easy to get stuck.
3. Use reverse circulation drilling rig, reverse drilling rig could pump out cuttings and drilling mud out of the drilling hole from the water swivel, normally, it is with a powerful Vacuum pump. It can pump out most of the clay mud as it can.
4. Always do a lifting operation regularly when drilling down 6-10 inches, then keep the pump working for some time, this skills works, too.
In a word, your driller should be careful when hit much clay and then should do some right operatation. Drilling experience is much important than a drilling rig. A experienced driller can help a lot, if it is possible, your drilling team should have one experienced driller at least.