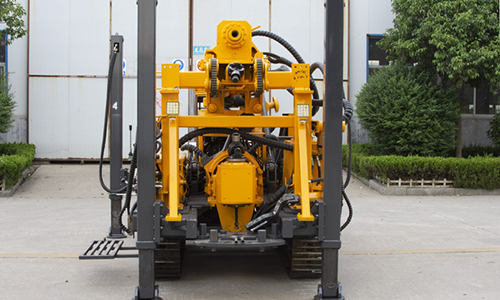 1. Mechanical transmission system, more engery-saving compared with hydraulic motor.
2. High Torque max 10500N.m, better for large diameter drilling
3. It can do both mud and air drilling.
4. With extra 5.5t winch, then it is easy to help do the casing work.
5. Once set up, drilling tower is more than 7m, in that way, easy to lower 6m casing pipe.
6. Use truck gearbox, then maintance is similar like normal truck, not too complex.
7. With steel track, then can be driven in mudy working site.
Used to drill 300-400m for water well, 500-600m for exloratuon mining drilling drilling diameter ranges from 70mm-350mm
SPECIFICATON OF DRILLING RIG
Small Diameter Mud Drilling Depth
530m
NQ Wire Line Drilling
600m
Air Drilling Depth
350m
Drilling Diameter
115-350mm
Lifiting Capacity
12 ton
crawler type
steel
Rotary Speed
55/93/192/263/384/441/905/1030
Max Torque
9500 N.M
Drilling Method
Mud and Air Drilling
Engine Model
YN27GBZ
Reverse Thrust Capacity
8.5 Ton
Engine
YUNNEI
Rated Power
58kw
Mechanical Winch
5.5 ton
Drilling Rods Diameter
76mm/89mm/102mm
Drilling Rods Length
3000mm
Air Consumption
16-35m³/min
Air Pressure
10.5-24.6 bar
Driving Speed
2.5km/h
Climbing Angle
20 °
Measurement
3480*2375*7600mm
Weight
6300kg
Get Price And Support
Please Feel free to give your inquiry in the form below. We will reply you in 24 hours