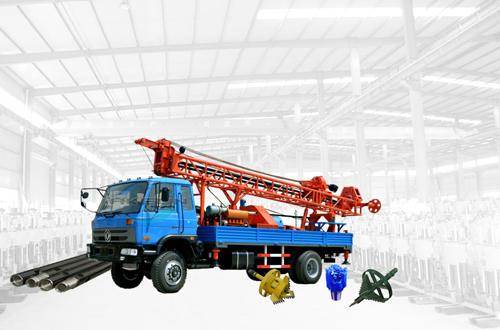 Truck AKL-400R hydraulic truck mounted drilling machine
Tel.: +86-371-56781209
Mobile:+86-15137425291
Fax: +86-371-68620369
E-mail:akldrill@gmail.com
Leave Messages
More drilling technology, normal and reverse circulations for both mud and air, mechanical unit
and hydraulic unit for
mask up-down, et
1. Mainly for water well, agricultural irrigation, geological survey and construction.
2. Facilitates convenient to transport and start a new drilling project.
3. Multiple purpose and multiple functions for drilling.
4. Easy to operate and maintain, High reliability and long life for working.
5. Economy compared with machines with the same drilling ability.
Hole Diameter (mm)

120-1500

Hole Depth (mm)

400

Run Of Rod (m)

3, 4

Drill Rod Diameter (mm)

φ89

Drilling Technology

Normal and Reverse Circulation for Both Mud and Air

Drill Head Inside Diameter (mm)

φ80 ,φ120

Drill Head Lifting Speed (m/s)

0.37 0.16

Drill Head Lifting Force (kN)

45.40 105

Drill Head Spin Speed

A (Forward: 20-33-73) (Reverse: 13-23-47)

B (Forward: 36-58-127) (Reverse: 23-37-80)

Main Hoist Lifting Force (Kn)

25

Feed Thrust (kN)

0-15

Dimensions (mm) (L-W-H)

Working Conditions: 9600*2950*7900

Transport Status: 10200*2470*3300

Supporting Form

Hydraulic Screw

Mask Up-Down

Hydraulic Unit

Rig Mass (kg)

12500

Chassis

JIE FANG CA1127 or DONG FENG EQ1141

Power Unit

Diesel Engine

Power (kW)

84

Mud Pump

BW600/3 Mud Pump

Pressure

3 Mp 4 Mp 5 Mp

Flow (m3/h)

720 L/min 513 L/min 335 L/min
Get Price And Support
Please Feel free to give your inquiry in the form below. We will reply you in 24 hours