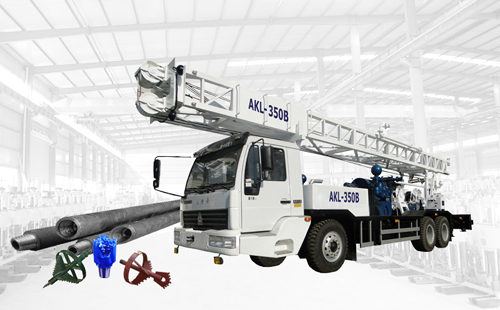 New design and more powerful, AKL-350B truck mounted drilling rig
Tel.: +86-371-56781209
Mobile:+86-15137425291
Fax: +86-371-68620369
E-mail:akldrill@gmail.com
Leave Messages
1. Widely used in the water well, exploration and urban construction;
2. Normal and reverse circulation are the main drill methods, equipped with horizontal dual-cylinder mud pump.;
3. Power supplied by truck engine, equipped with driving device and hydraulic system, truck walking and drilling work can
make the same machine linkage.
4. Equipped with a 55kw generator and electrical controling system to get the dual-power drill work by electric and truck
engine supplied.
5. Equipped with hydraulic winches, tower pulley block and taps on both sides of the rings linkage auxiliary pressure device.
6. Equipped with 85E a auxiliary hydraulic winch, CB-HP5050/32Z hydraulic pump, BW850/2A mud pump, MF-15 generator.
7. Mechanical drive for tower up-down, 4 hydraulic supporting legs and 2 mechanical supporting legs.
8. The drilling machine can be equipped with construction techniques such as superfluid, high pressure slurry filling and
dry method bore forming
1. Widely used in coal mine, ore mine, energy industry and water well drilling.
2. General for investigation, geophysical exploration, core sample drilling.
3. Can be used for high-way or building construction piling work.
Drilling depth (M)
80
300
Borehole diameter (mm)
1500
500
Rotary table speed (r/min)
21.2; 36; 63.2; 100.6; 155; 20.2 (reverse)
Rotary table torque (KN.m)
18; 10.6; 6; 3.8; 2.5; 18.9 (reverse)
Pull force of the main winch (with single winch rope) (KN)
30
Max. pull force of the main winch (KN)
180
Pull force of the auxiliary hydraulic winch (with single winch rope) (KN)
40
Max. pull force of the auxiliary hydraulic winch (KN)
160
Elevating capacity of the hook (KN)
180
Carrying capacity of the drill tower (KN)
180
Drill tower height (mm)
11500
Load bearing capacity (t)
25
Drill stem
Main drill stem (mm)
108×108×7500
Second drill stem (mm)
89×10×5500
Hydraulic oil pump
Model
CB-HP50/32Z
Capacity (ml/r)
50/32
Rated speed (r/min)
2000
Rated pressure (MPa)
20
BW850/2A slurry pump / mud pump
Cylinder sleeve diameter (mm)
150
Piston travel (mm)
180
Theoretical flow rate (L/min)
600850
Rated pressure (Mpa)
32
Stroke frequency (min

-1

)

5882
Suction pipe diameter (mm)
127
Drain pipe diameter (mm)
64
Rotation speed (r/min)
470
Input power (kw)
40
Overall dimension (mm)
2000×1030×1400
Weight (t)
1.5
Matching power unit
Diesel engine
Model
TBD226B-6

Ⅱ

water cooled, 4-stroke, intercooled supercharged diesel engine

Rated power (KW)
132
Speed (r/min)
2300
Max. torque
650N.m/1400-1500rpm
Chassis
Model
TAZ5191TZJ
Drive type
6×4
Engine
Model and type
TBD226B-6

Ⅱ

water cooled, 4-stroke, intercooled supercharged diesel engine, Euro

Ⅱ

Rated power (KW)
132
Rotation speed (r/min)
2300
Overall dimension (L×W×H)(mm)
11110×2490×2500
Generating set
Model
MF
Rated power (kw)
15
Rated voltage (v)
400
Rated current (A)
27
Power factor
0.8
Speed (r/min)
1500
Rated frequency (Hz)
50
Insulation class
H
Protection rating
IP21
Optimum gear of the gearbox in driving cab (rotation speed)
5

th

gear (1000-1400r/min)

Max. truck travel speed (Km/h)
75
Weight (kg)
19340
Transport dimensions (L×W×H) (mm)
12160*2490*3440
Overall dimension (L×W×H) (mm)
11110*2490*13110

Get Price And Support
Please Feel free to give your inquiry in the form below. We will reply you in 24 hours